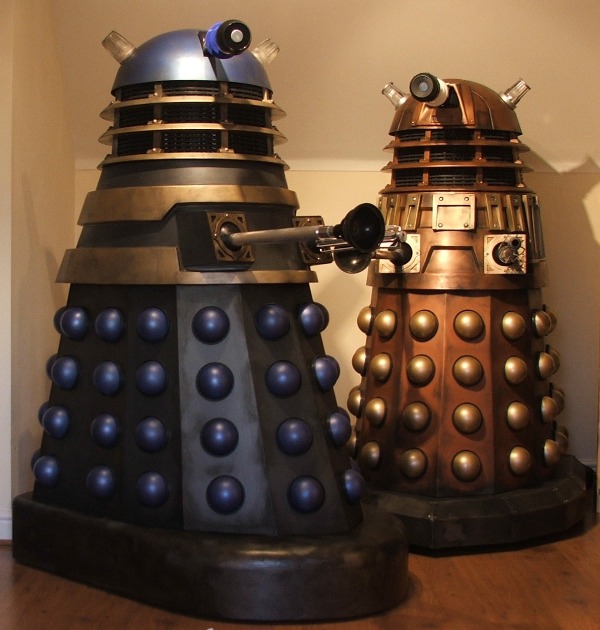 Now I have built a new series Dalek, it seems unfair to have him all alone I built a second 'Hybrid' Dalek.

Dalek 2 is based on the 'Dr Who and the Daleks' movie props, but with a NSD twist. It has a 1960's movie style fender, with a 'Shawcraft' skirt and dome. The shoulders are again 1960's style but with moulded collars, giving them a chunky feel and the neck is a mixture of classic rings, but with NSD struts & neck blocks. The dome lights are re-casted movie style beakers, but clear & frosted.

The eyestalk has 5 blue classic style discs, with a 1960's 'toffee apple' eyeball - with a red LED iris. The gun utilises a section of 30mm tube, to give it again a chunky look like the original movie Daleks, but with plastic collars at either end to bulk it up more and crimped classic rods - the plunger is NSD style, but there is also a claw still in progress.

Colour-wise, the Dalek follows the original movie 'drone' scheme, but with a modern slant. The skirt & shoulders are Ford Polaris Grey, the head Renault metallic Blue, the hemis are Peugeot Miami blue, and the neck , gun box trims & shoulder collars are Ford Olympic Gold. The base is a mix of black and silver hammerite - and the whole Dalek is weathered using a matt black acrylic model paint, lightly sprayed with an airbrush and rubbed back with a kitchen scourer.

Check out the links on the left for detailed pictures and descriptions of the build process.